Samuel Williard's manufacture some of the finest quality and best value essences in the world.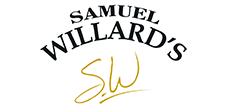 GOLD STAR SELECTIONS
The Gold Star Range gives you quality with great choice and doesn't need to break the bank.
Big Cat Bourbon
Chilli Vodka
Irish Whisky
Kentucky Bourbon
Kremlin Vodka
Lemon Vodka
Mature Oak
Ouzo
QLD's Own Rum
Red Neck Tequila
Rum Oak
Rye Whiskey
Saint James Gin
+ Many more
PREMIUM SELECTIONS
The Premium Selection is part of the Samuel Williard's original range of essence's which has continued to prove its worth for over 10 years.
Premium Ambrosia Whiskey
Premium Bourbon
Premium Highlander Whiskey
Premium Kentucky Bourbon
Premium Ouzo
Premium Queensland Rum
LIQUEUR SELECTIONS
The Samuel Willard's Liqueur Range is filled with Australian favourites that are sure to please. Great on their own or mixed as a cocktail, be sure you have at least a few of these on your top shelf.
Butterscotch Schnapps
Chocolate Rum
Coconut Rum
Coffee Liqueur
Creme de Cacoa
Irish Cream
Kafe Liqueur
Melon Midori
Sambucca
Southern Spirit
Triple Sec
SMOOTH SELECTIONS
The name speaks for itself here. Smooth is the latest addition to their range. Their accelerated aging process allows them to produce a range reminiscent of the drinks' origin, complete with an exceptionally smooth taste.
Smooth Bourbon
Smooth Rum
Smooth Whisky
Visit us in store at Oxenford or Nerang to purchase your Samuel Willard's products.